Flagler County is located midway between Daytona Beach and St. Augustine, bordered on the east by 19 miles of Atlantic coast beaches. Exit 284 on Interstate 95 is the closest exit to the beach all the way from Maine to Miami. One of Florida's newest "hot" destinations, Flagler County is one of the fastest growing counties anywhere in the nation, and attracts families, as well as retirees. It offers peaceful, uncrowded beaches, subtropical forests, historic spots, tranquil waterways and the spectacular Atlantic Ocean, along with a year round mild climate, first-class recreational facilities and close proximity to cultural centers and five star resorts. Oranges, sugar and steamboats created the small coastal towns in Flagler County and their preserved downtown areas recall the heyday of "Old Florida." For a taste of the bygone era, stroll the Flagler Beach Historical District and Museum, the Holden House Museum, Bulow Plantation Ruins State Park and the Florida Agricultural Museum, which is an outdoor, living history park currently under development. Charming outdoor restaurants and cafes, quaint shops, hotels and bed and breakfast inns, along with small town festivals and special events, makes the area an attractive tourist spot. The communities of Flagler County are Bunnell, Marineland, Flagler Beach and Palm Coast.


The real estate market is vast and varied in Flagler County, everything from fabulous beachside condominium communities, luxurious golf communities, single family homes, long and short term rentals. Below is a brief description of each of the four areas of Flagler County.

Bunnell is the oldest city in the county and the county seat. It is host to the annual Cracker Day Rodeo in March and home to the Holden House Museum, numerous antique and thrift shops and the Flagler Auditorium, which offers cultural activities such as theater and symphony.

Marineland is most well known for being home to the world's first Oceanarium, which, for more than sixty years, has been home to over 70 different marine species.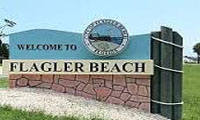 Flagler Beach is a tranquil, seaside village with six miles of ocean frontage. Charming beach shops and restaurants and cafes and an old-fashioned town square add to the charm. Flagler Beach boasts an 804-foot Boardwalk and Pier.

Palm Coast is home to 8 golf courses and has been called "the Pebble Beach of the East." In addition, it offers both fresh and saltwater fishing, boating along the Intracoastal Waterway, a boat launch and picnic facilities. The oldest standing homestead in Flagler County is located at Palm Coast, and contains a 1,500 acre preserve with hiking and horseback riding trails, wetlands and marshes that contain a variety of birds and wildlife.